The sun is finally starting to make a regular appearance here in the Pacific Northwest. Most of us are probably searching high and low for the sunscreen we bought last year, or plan on picking some up the next time we're out. Before applying last years sunscreen, or purchasing more, I would highly recommend checking this link out. You may be surprised at what you find.
Before I became a mom i wouldn't have thought twice about what type of sunscreen I was using. It's just sunscreen, right? Well, after much research I found how hazardous sunscreen is. I honestly had know idea and couldn't believe what I was reading. I mean, can you believe this stuff that we've been slathering all over our skin and our children's skin for years could potentially be more harmful then exposing our bare skin to the sun. What's even more disturbing is that these sunblock manufactures don't even have to list their indigents on the bottle. If that's not a red flag then I don't know what is. And what's even more disturbing and disgusting is that they stamp the pediatrics seal of approval right on the label as some marketing tool giving moms the false impression that their product is the healthy choice for their family. That's right, just because a bottle may have the words "approved by pediatricians, hypoallergenic, or baby" printed on the front does not mean they're chemical free.
EWG's has an extremely resourceful website with a ton of useful information and tips. Best of all, it offers this tool you can use to look up any sunscreen, and the info available on it. It will tell you anything from the UVA/UVB protection, ingredients, health risk, to providing an overall hazard score. As you can imagine as soon as i found this tool I was off gathering all the sunscreen in my house. None of them scored well, might I add. I was really surprised how my Neutragina Baby sunscreen was listed as a moderate hazard. It just goes to show sometimes you can never be to careful. I'm extremely grateful I found this website and i will be referring back to it yearly to stay updated. I hope this post helps all parents make a healthy choice of sunscreen for their family.
All Sunscreens | EWG's Skin Deep® | 2012 Sunscreen Report
2012 Hall of Shame
Children's Sunscreens That Fail the Test
EWG's research into this year's crop of sunscreens revealed that many products advertised for babies and kids are formulated with safer, more effective ingredients than those in other products.
Still —
buyer beware!
There are still many children's products that don't meet the mark. Here are a few shameful trends and products in the 2012 sunscreen crop:
Hormone-disrupting chemical in children's sunscreens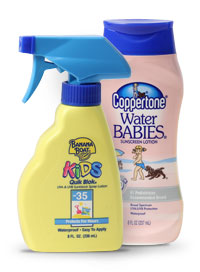 Some 65 sunscreens advertised for babies and kids contain oxybenzone, a synthetic chemical that absorbs the sun's rays but also readily penetrates the skin. It can disrupt the body's natural hormones. It can also cause allergic reactions.
Experts warn that children are at greater risk from oxybenzone and other hormone-disrupting substances than adults. They absorb more of the chemical relative to their weight. They may not excrete it as easily. And their developing bodies are particularly sensitive to hormonal changes.
Typical offenders:
Banana Boat Kids Quik Blok Sunblock Spray Lotion, SPF 35 – 4% oxybenzone
Coppertone Water Babies Sunscreen Lotion, SPF 70+ – 6% oxybenzone
Plenty of safer sunscreen chemicals are available.
Sunscreens that boost skin tumor risk?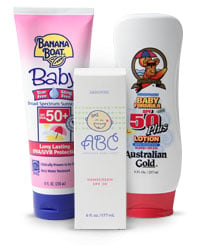 Foods rich in vitamin A are good for the body. But applied to sun-exposed skin, this common sunscreen additive may speed the development of skin tumors and lesions, according to government studies. Why is vitamin A (shown as "retinyl palmitate" or "retinol palmitate" on labels) allowed in sunscreens made for use in the sun? Good question.
Almost 40 sunscreens advertised for babies and kids contain retinyl palmitate, including:
Banana Boat Baby Tear Free Sunblock Lotion, SPF 50+
Arbonne Baby Care Sunscreen Lotion, SPF 30
Australian Gold Baby Formula Lotion Sunscreen, SPF 50+
The FDA has yet to rule on the safety of retinyl palmitate in skin care products,
but
EWG recommends
that consumers avoid sunscreens with this chemical.
Skin cancer risk starts young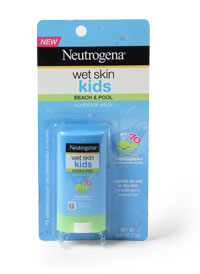 Sky-high SPF products may protect from sunburn, caused primarily by UVB rays, but they leave children vulnerable to skin-damaging UVA rays. Without the warning signal of sunburn, children stay in the sun too long, and UVA damage builds up. Parents who see a high-SPF label on the bottle may think it's safe to allow their kids hours of sunburn-free beach time, but risks associated with sun exposure begin in childhood and accumulate over a lifetime.
The FDA wants to limit SPF claims to "50+" to cut down on the false sense of security higher numbers like this can impart:
Neutrogena Wet Skin Kids Beach & Pool Sunblock Stick, SPF 70
EWG recommends
avoiding products labeled higher than SPF 50. Reapply sunscreen often regardless of SPF.
Sprays that could coat the lungs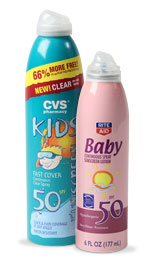 Aerosol spray sunscreen packages will soon be required to display FDA-mandated warnings such as "use in a well ventilated area" and "intentional misuse… can be harmful or fatal." These cautions highlight growing concerns that sprays pose serious inhalation risks. Spray sunscreens also make it too easy to miss a spot, leaving bare skin exposed to harmful rays.
Two aerosol sprays marketed for babies and kids:
CVS Kids Fast Cover Continuous Clear Spray, SPF 50
Rite Aid Baby Continuous Spray Sunscreen Lotion, SPF 50
A cloud of powder
Loose powder sunscreens emit a plume of airborne particles. When inhaled, they can potentially damage the lungs over the long term. If there's a chance you can breathe it, don't buy it.

Some brands of loose powder sunscreens contain particles of titanium dioxide, which the International Agency for Research on Cancer has classified as "possibly carcinogenic to humans" when inhaled. Powdered sunscreens may also contain nanoscale and micronized zinc oxide, which can cause lung inflammation and worse.
GO!screen Natural Mineral PowderBlock Brush-On Sunscreen, SPF 30 is advertised as "great for kids" on the front of the bottle. It contains zinc oxide particles.
EWG recommends
that sunscreen users stay away from inhalable products – sprays and powders – and use creams and lotions instead.
Children's products… sometimes better, but not always
For some brands, the only differences are on the label – not inside the bottle. We found that 16 brands in this year's crop feature products that list the same ingredients for both baby and adult sunscreens – down to the exact amounts of active ingredients. Among them:
Aveeno Baby Natural Protection Mineral Block Sunscreen Lotion, SPF 30
Aveeno Active Naturals Natural Protection Mineral Block Sunscreen Lotion, SPF 30
Coppertone Kids Sunscreen Stick, SPF 55
Coppertone Sport Sunscreen Stick, SPF 55

Do sunscreen towelettes work? The FDA doesn't know…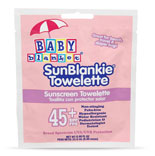 This baby sunscreen advertises "maximum allowable protection for babies" but comes in the form of a towelette. In its 2011 sunscreen rules, FDA says it doesn't have data to know if wipes are safe and effective sunscreens.
Baby Blanket SunBlankie Towelette SPF 45+

15 minutes is not "immediate," especially for children

The front of a Lavera sunscreen box claims the product is "effective immediately" and there is "no need to wait." But the side panel warns, "apply… 15 minutes before sun exposure." Which is it?
Lavera Baby & Children Sun Screen, Medium, SPF 20
EWG recommends
that consumers read labels. Ignore claims, follow warnings and directions.
And for moms: beware of super-hyped, super-pricey moisturizers with sunscreen
La Prairie Cellular Radiance Emulsion, SPF 30 (retails for $267 per fluid ounce)
Consumers who shell out the bucks for pricey SPF-labeled moisturizers rarely get the sun protection they expect. There are plenty of sun care products that sell for less than $3 per ounce and offer better sun protection than those that cost up to 90 times more.
And a Sunscreen Hall of Shame wouldn't be complete without –
The Food and Drug Administration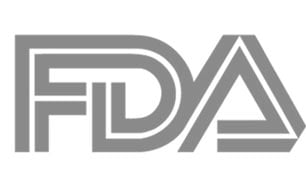 Starting December 2012, new FDA rules will bar sunscreen labels from using the terms "sweatproof," "sunblock" and "waterproof." Products that advertise "broad spectrum protection" must pass an FDA test. The agency is considering restricting SPF ratings to no higher than "SPF 50+. "
These actions might be impressive – if it were the 1990's. But it isn't. The FDA has more work to do to ensure that sunscreens meet the highest standards for safety and skin protection. We estimate that almost 90 percent of this year's crop of sunscreen products can pass the FDA "broad spectrum" test with no reformulation. Half of all sunscreens that meet FDA's standards for "broad spectrum" protection filter so little UVA radiation they would not be sold in Europe. There, manufacturers voluntarily comply with a European Union recommendation that all sunscreens provide meaningful UVA protection in relation to SPF.